Is This the End of the Open Floor Plan? Welcome Back Panel Systems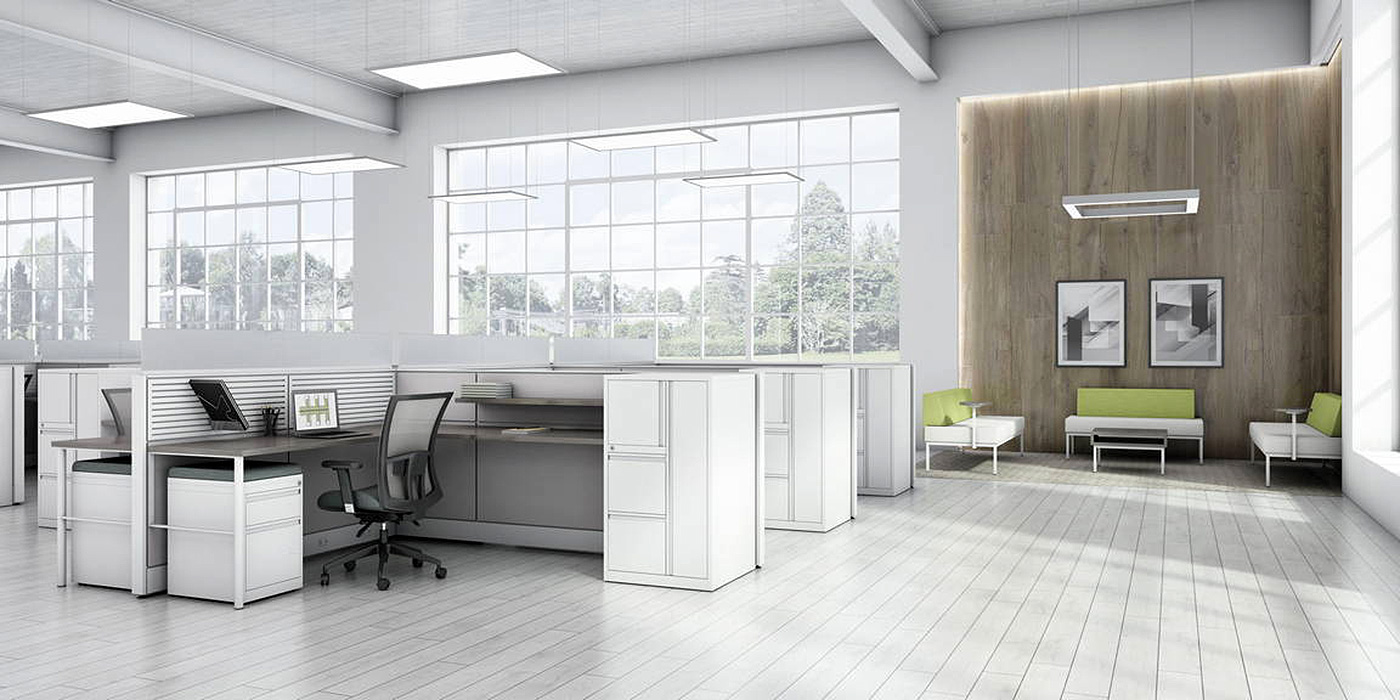 Not every company can respond to the changing workplace due to COVID-19 the same way. While some businesses are able to switch their employees to mostly remote work, others have to reconfigure their open floor plans to effectively distance their staff in the new "Six-Feet Office." What to do? Panel systems might be the answer. Before you think "Oh no, cubicles are coming back!" know that the current versions feel much more open and way less claustrophobic. At Alan Desk, we offer a range of very cool options.
As history is made before our very eyes and the workplace is rapidly being reshaped, we figured we'd take a trip down memory lane to see how open floor systems got started, how they evolved to cubicles, how open plans returned (and were welcomed with a collective sense of relief you could hear all the way from Silicon Valley) and how it looks like we're coming full circle. As they say, history repeats itself.
How the Open Office Got Started
The modern version of the open office as we know it was conceived in the 1950s by a German team from Hamburg, to facilitate the flow of ideas and open communication. Fast forward to the 1980s, and open offices had become de rigueur. They literally and metaphorically broke down walls between teams, giving employees a sense of collaboration and transparency with their bosses.
Just a decade later, during the first dot-com boom of the 1990s, the open office arrangement became the workplace setup in Silicon Valley — a way of doing business that was quickly emulated around the globe, as it spelled cool, hip innovation and progressive thought. It also stood for "the idea of a flat hierarchy, another cultural tenet of the tech region, where even the CEO is sometimes out on the floor with workers," according to Business Insider.
By 2017, seven in ten offices had adopted the model, according to Bloomberg CityLab. The open floor layout was embraced from Berlin to New York to Singapore, despite studies and evidence-based complaints that showed negative effects on workers' satisfaction, productivity, and even health. The open floor model was experienced as stressful, noisy, and discouraged in-person interaction. According to Harvard Business Review, a study of two Fortune 500 firms showed that face-to-face interactions fell by roughly 70% after the firms transitioned to open offices.
As early as 2001, organizational psychologist Matthew Davis reported a negative impact as well. Davis reviewed more than 100 studies about office environments and reported that they are detrimental to workers' productivity, creative thinking, attention spans, and satisfaction. Of course, another major reason employees don't like open plan systems — and which they might not report in an official study — is that they can no longer spend office time online doing personal things.
In all fairness, open-plan offices also have their share of supporters. According to a 2016 U.S. Workplace Survey by architecture, design, planning and consulting firm Gensler, there was no difference in productivity or satisfaction in high-performing work environments. Their consensus was that when space was designed to function well, "all individual space types were rated as equally effective." Also, managers and employers favor the open plan, because with a quick glance they can make sure that everyone is busy working.
The open office stood for "the idea of a flat hierarchy, another cultural tenet of the tech region, where even the CEO is sometimes out on the floor with workers."
Business Insider
The Office of the Future Requires Prophylactic Design
However, now we are dealing with a global pandemic and the risk of transmission of disease. A recent study of more than 2,400 employees in Denmark found that as the number of employees working in a single open space increased, the number of people taking sick leave also went up dramatically. Workers in fully open offices were out sick an average of 62 percent more. Clearly, something has to give, and with the arrival of COVID-19, it looks like the much-maligned open office plan could finally be filed under "done."
The office of the future calls for prophylactic design to prevent the spread of the novel coronavirus. Every aspect of the new workplace will have to change, but a return to fully enclosed cubicles is unlikely. Instead, we will experience less permanent office solutions thanks to the implementation of office panel systems.
Workers in fully open offices were out sick an average of 62 percent more, according to recent studies.
Office Panel Systems to the Rescue
Panel systems allow companies to change the look and arrangement of an open floor plan in a cost-effective way that can be implemented pretty quickly. Panel systems provide refuge from the spread of infection and a sense of privacy and organization in primary workspaces. Separate panels can be used to delineate space to create the recommended 6-foot distance.
Panel systems offer contemporary and — for high-end models — even elegant looks and functional design that allows for quick installation and ease of change. They come with monolithic panels or tiles, including segmented tiles. The latter have an aesthetic advantage because they allow you to mix and match. Tiles can easily be easily popped off to access the wires hidden inside the panels.
Panel materials include premium wood veneers, tempered glass, laminate with a multitude of finishes, clear anodized aluminum, embossed metal, or open weaves. High-end versions can feature gorgeous performance textiles and fabric that is antimicrobial and easy to sanitize.
Their application lends itself to many types of workplaces: law offices, technology, the media and advertising, trading desks, higher education, technology, call centers, architecture and design offices, small business and startups, and consumer goods companies, to mention just a few.
Panel systems provide refuge from the spread of infection and a sense of privacy and organization in primary workspaces.
Completely Customizable to Conquer Office Space
Panel systems are available with easy repositioning perpendiculars that require no rewiring, making changes in a workstation a cinch to achieve. Many systems are completely customizable to adapt to the specific needs of every type of workplace. With office panel systems, you can add or remove panels, change the wall height, and (with high-end models) swap out panels should one get damaged or you want a new color or look.
Panel systems can easily be broken down and moved — for instance, when you need to create new workstations or downsize workstations. Their walls hold all of your cables and data. You can also hook in shelving and other office furniture at different heights.
Office Star Products makes SIS (Systems in Stock), a contemporary, full-feature monolithic panel system that is inexpensive and in stock. Rectilinear in design, it's available in work surfaces including white and espresso and the new colors urban walnut and slate grey, with metal finishes in silver or white, and a fabric titled Drift, a versatile grey/beige hue that adapts to many settings.
With Global's segmented Compile Systems, you can restructure your workplace via flexible, re-configured panel options that are budget-friendly and durable. Their range of panel heights and divider screens adapts to a variety of environments, from open-floor offices to education and healthcare spaces. The laminate panels are available in a number of finishes, surfaces and base styles, and they are easy to connect, configure and clean, including with bleach solution.
Evolve's Light Panel System features sleek aesthetics and a multitude of easy configuration possibilities. Its panels can be switched or stacked in 6″, 12″ and 24″ modules in various heights. Panel choices include laminate, glass and interchangeable fabric. With this cost-effective option, you can decide between the monolithic and segmented panel look.
Is There a Difference Between Panel Systems and Cubicles?
Technically, they refer to the same application, and you could use panel systems to build cubicles as most people know them from TV or the long-ago past. Yet today's panel systems are much more open, offering a sense of breathing space. You can adapt them with higher walls or transparent elements that embody privacy without feeling stuck inside a 6'x6′ box.
Cubicles date back to the '60s when designer Robert Probst, fed up with loud and stressful office spaces, designed the "Action Office."
Why Do So Many People Hate Cubicles?
The word cubicle brings to mind square workstations surrounded by walls and decorated with people's treasured mementos like family photos, plush toys and inspirational quotes.
Cubicles date back to the 1960s when designer Robert Probst, fed up with loud and stressful office spaces, designed the "Action Office" with the help of his co-workers at Herman Miller. It featured short partition walls set at 90 (or 120) degree angles and was intended to finally offer people a sense of privacy.
Fast-forward to 1968 and Probst's "Action Office II" was hailed as a triumph by The New York Post. As described in Cubed: A Secret History of the Workplace, the designer had finessed a "workstation for the human performer." This cubicle consisted of three walls, obtusely angled and movable. But instead of creating privacy and a sense of freedom, cubicles allowed employers to "stuff as many people in as small a space for as cheaply as possible as quickly as possible." In 1998, Probst defended his original design but decried the new cubicles as "hellholes." He wasn't alone, as workers found themselves trapped and uncomfortably crammed into the confines of their cubicles.
Clearly, the densified workplace is about to evolve. Desks will have to be staggered and space will have to be effectively divided to prevent the spread of disease. Panel systems provide safety while not feeling constricting. Also, privacy is what employees want more than anything, according to a study by Oxford Economics; more than daylight or free lunches and snacks — another pro for the case of nixing the open floor plan. The exact nature of the office of the future remains to be seen. We're all still in a state of uncertainty. Hardly anyone has the economic resources to buy three times more space to implement 6 feet of distance between employees.
At Alan Desk, we know office design. Our professional team can consult you on various panel systems for different budgets. With more than 70 years in business and a long list of happy clients, we can work on a solution that fits your aesthetic and functional requirements.
Visit our new expanded showroom at 162 La Brea Ave. in Los Angeles, which features the SIS Panel Systems and Compile from Global Total Office.