PETG vs Acrylic: There's a Substantial Difference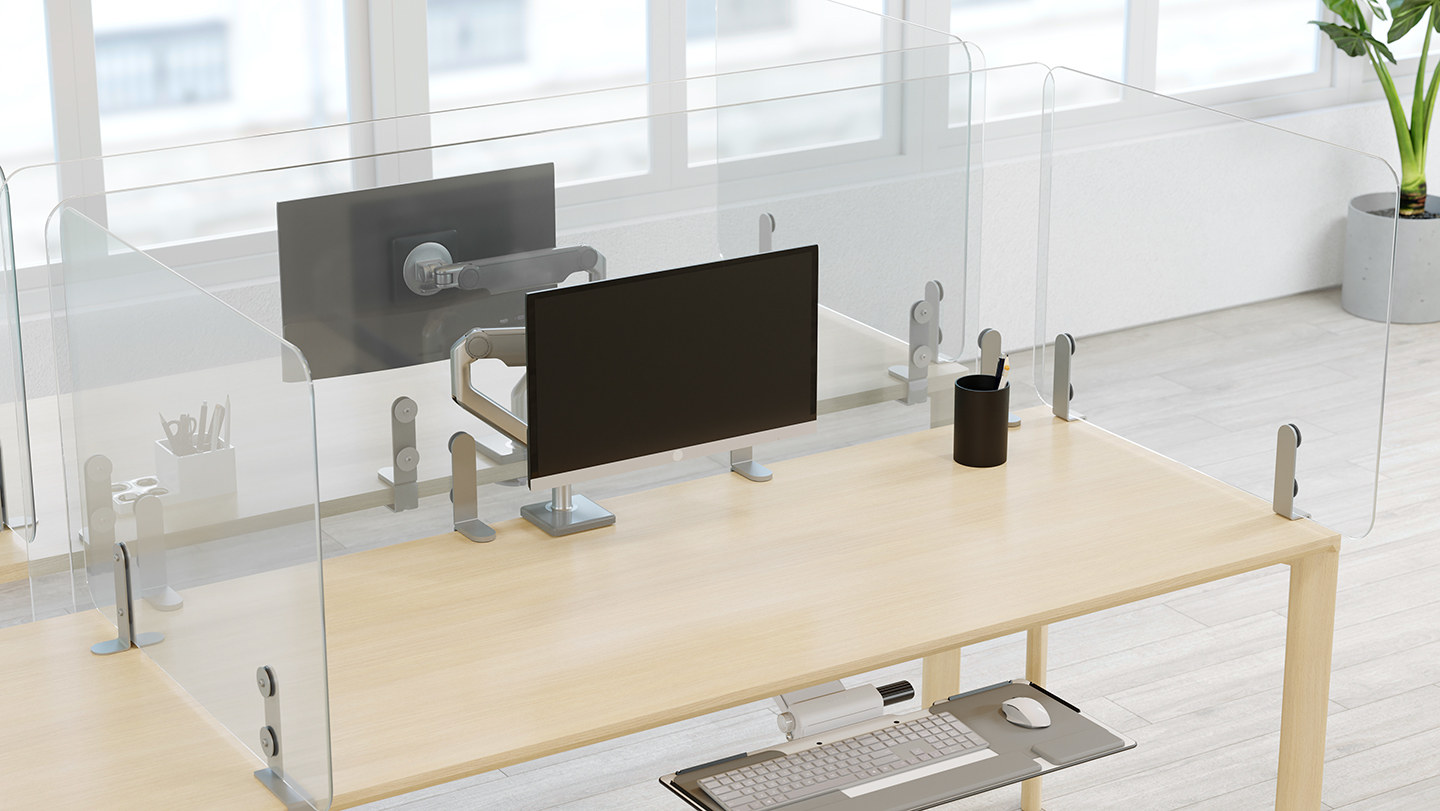 You know all about acrylic. It's such a commonplace material in our everyday lives. Acrylic is used for anything from paint, dishware, commercial signs to airplane windshields. In our world of office furniture design, you find it in vertical applications such as desk shields and privacy screens found in panel systems. In residential areas, people love its clean, modern look for designs like chairs, coffee tables, and decorative accessories.
Given our current need for separating employees in the workplace, acrylic office dividers and wellness screens are certainly in the spotlight. However, there's another amazing material we've come across that shows considerable advantages: PETG. Read on to learn about this plastic's impressive benefits, a trifecta of durability, safety, and sustainability.
How Does PETG Compare to Acrylic?
Not all polymers are created equal, and PETG is a plastic that sounds fantastic. PETG stands for polyethylene terephthalate glycol and is made from resin. It's an FDA-approved, food-safe thermoplastic polyester that is fully recyclable and one of the most common polymers used today; it's been around since 1941. Most plastic bottles are made from PET. PETG has the same chemical composition as PET except for the addition of glycol.
Acrylic, which we also know as Plexiglas, is a thermoplastic homopolymer made from synthetic fibers. Acrylic was first produced in 1928 and registered as the Plexiglas® trademark by Rohm and Haas Company, a manufacturer of specialty chemicals, in 1933. It's a No. 7 "other" resin. Number 7 plastics are usually not recycled. On the plus side, acrylic doesn't contain the potentially harmful industrial chemical bisphenol-A, commonly known as BPA.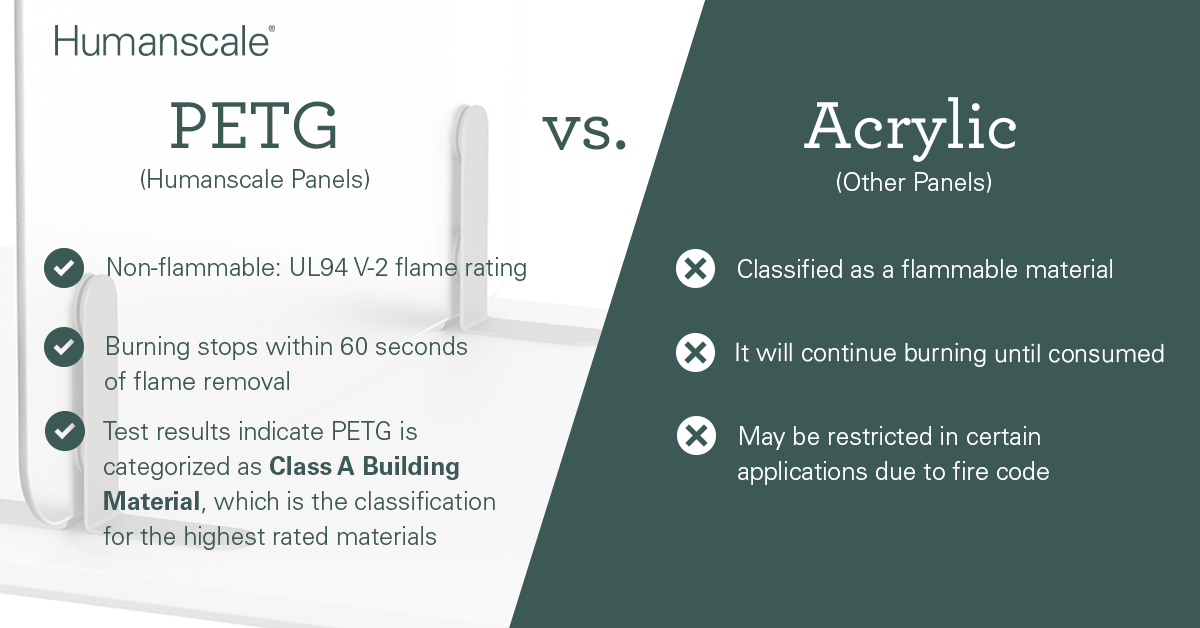 We all want office furniture that is hard-wearing and long-lasting without skimping on style. Aside from being eco-friendly and recyclable, PETG has clear advantages over acrylic when it comes to durability and safety.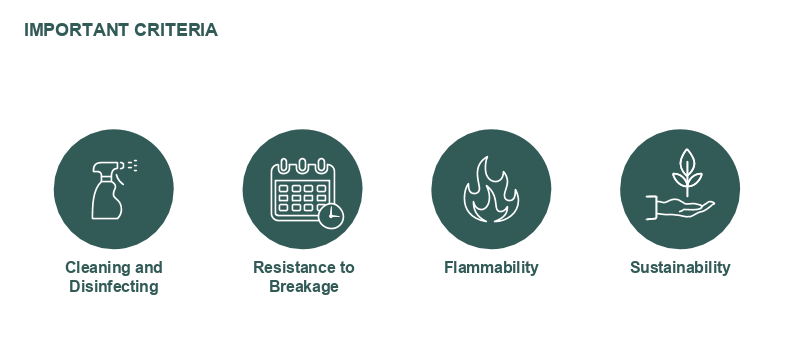 PETG is a very tough material that's more resilient and exhibits much higher impact strength than acrylic, which tends to splinter when broken, causing a potential safety hazard.
As to additional safety, PETG has a low V-2 flame rating. It will stop burning within 60 seconds of flame removal. Acrylic is a flammable material that will continue burning until it's consumed. The use of flammable materials such as acrylic in high-rise office buildings or educational facilities should be avoided.
In addition, PETG has stronger chemical resistance and holds up much better to all EPA-approved cleaners. This is a great plus at a time when frequent sanitizing with heavy-duty cleaning products is crucial to prevent the spread of infection.
In comparison, acrylic tends to become cloudy and weaken ("craze") in response to the repeated use of many cleaners. Crazing means tiny microfractures that increase the likelihood of breaking and splintering. That's a great case for superior durability.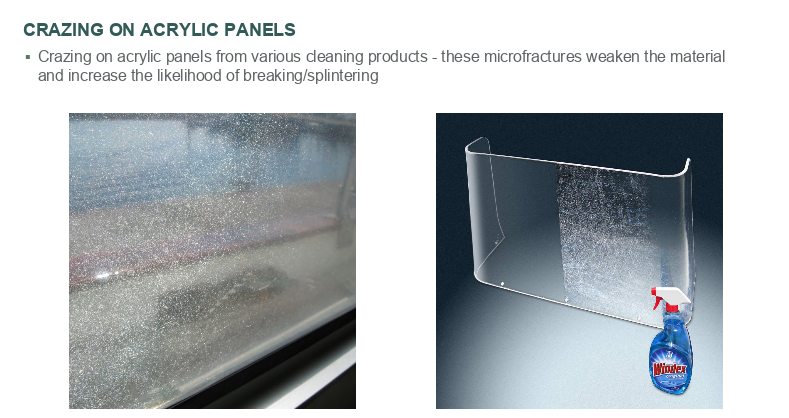 Sustainability and Lower Carbon Footprint
If you're mindful of how we impact the health of the environment, you'll be excited to learn that PETG has half the carbon footprint of acrylic. In terms of the carbons admissions lifecycle, this means 3.56 kg CO2e per kg material for PETG and 7.13 kg CO2e per kg material for acrylic. You can do that math. PETG is a No. 1 PET resin, the most recycled plastic globally.
PETG Separation Panels and Desk Partitions by Humanscale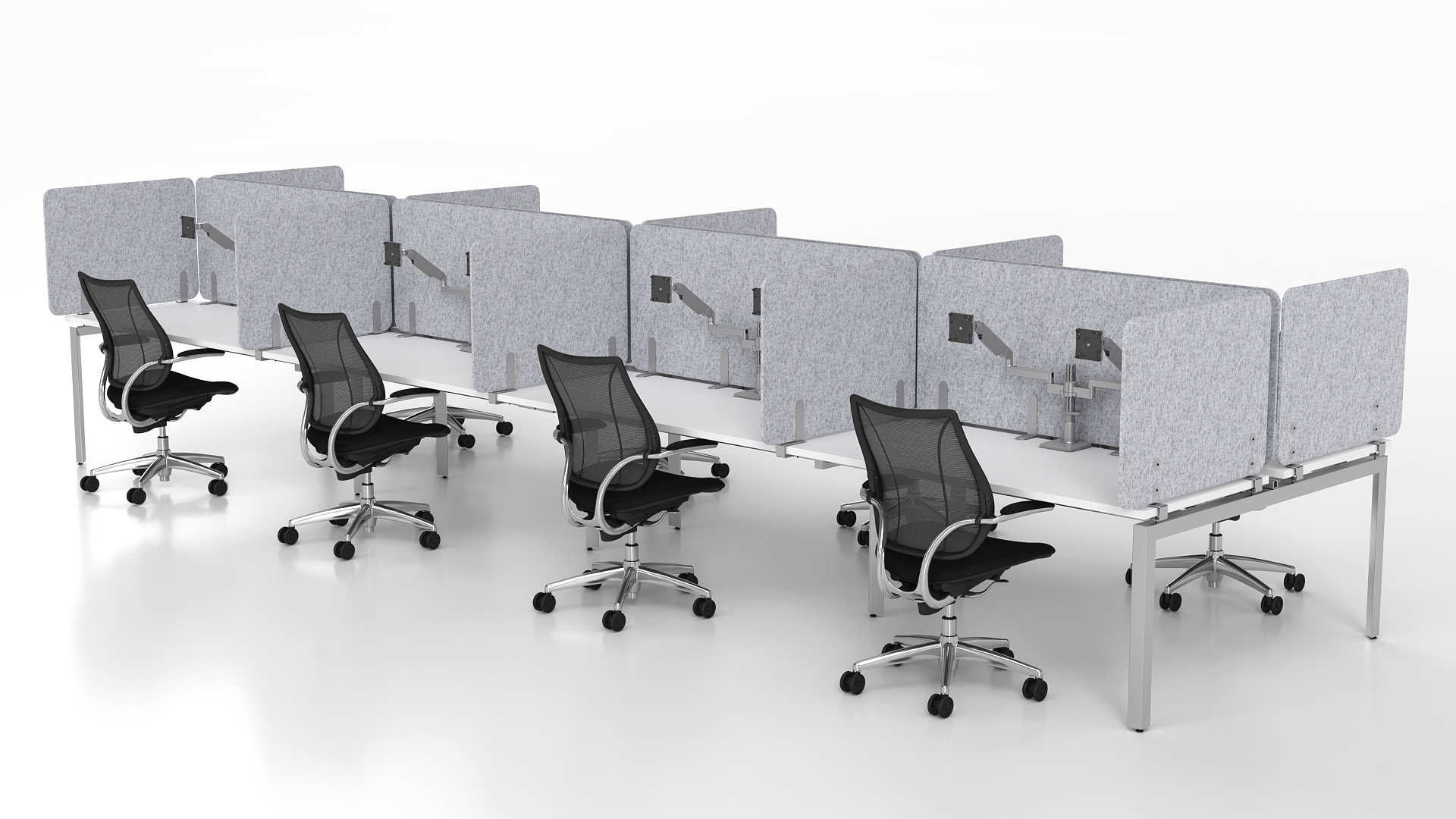 Humanscale recently launched separation panels and desk partitions made from PETG. These new office separators are available in a clear or frosted finish, easy to mount, and designed to look great in a variety of office environments. Humanscale's WellGuard Separation Panels come in six mounting options that easily attach to pre-existing or new worksurfaces. Humanscale also does felted PET panels in light and dark grey. These are sound absorbent and offer additional privacy around a workstation. All separation panels have a lead time of four weeks, so be sure to get your order in early.
We require savvy solutions in response to changes in the office environment that will likely change the way we work for a long time. Durability and safety are paramount. Yet we also need to be mindful of how we affect the well-being of our planet. PETG sounds like the way to go.
At Alan Desk, we offer a range of office panel systems, dividers, desk shields, and other safety-promoting workplace solutions. Give us a call to discuss the needs of your business. We will help you find great products that are aesthetic, highly functional, and long-lasting and promote well-being all around.