DeskMakers: Straight Out of Commerce, CA
DeskMakers has been manufacturing office furniture for more than fifty years. DeskMakers was founded in 1964 when it began manufacturing laminate case goods in a small factory in East Los Angeles. Today, DeskMakers is based at a state-of-the-art facility where they have become one of the leading manufacturer of office furniture manufacturers on the West Coast.
When it comes to laminate office furniture, they are on par with Maverick Desk located in Gardena, CA in terms of quality and flexibility of sizes and finish options.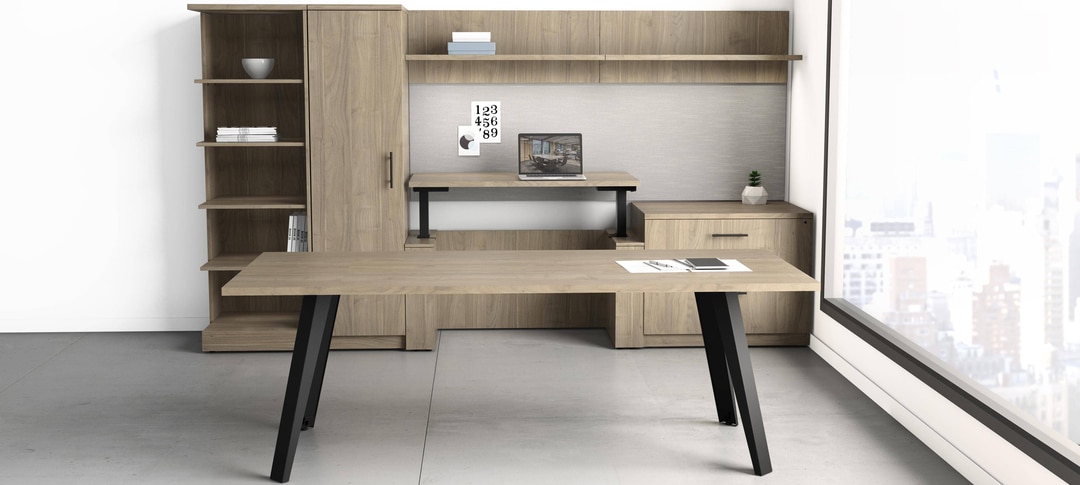 What kind of office furniture does DeskMakers offer?
DeskMakers is the perfect solution because of their design flexibility, clean lines, value, and industrial design vision. DeskMakers product lineup include affordable laminate casegoods, conference tables, parsons tables, media tables, workstations, storage units, lockers, reception stations, dividers, and custom furniture to a certain extent*.
What are DeskMakers new products?
DeskMakers: Ascend Collection
DeskMakers new product line Ascend became an instant favorite. If your design needs include incorporating a height adjustable work surface, then Ascend with its multiple configurations, sleek look, and color options and sizes is the perfect solution.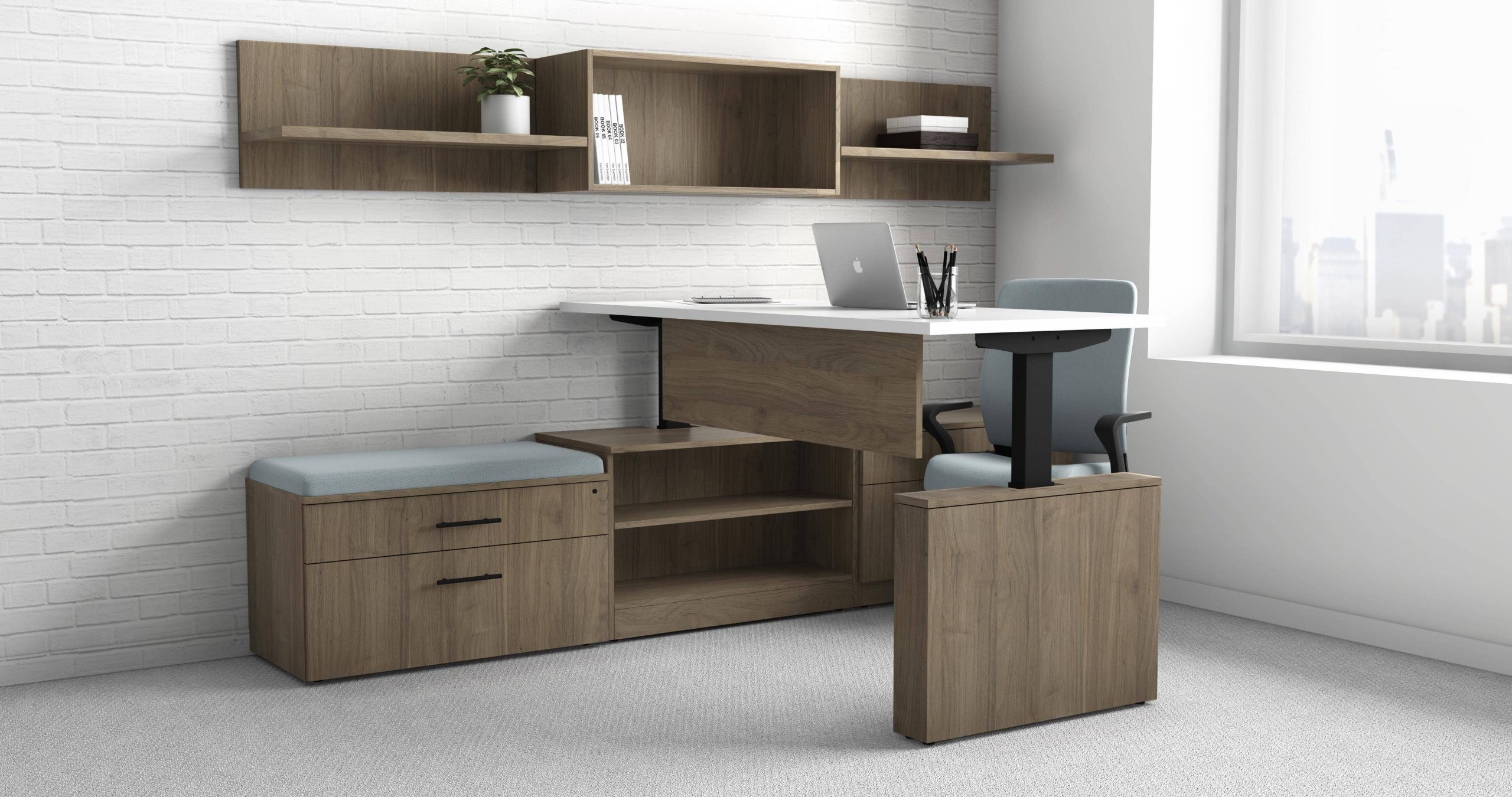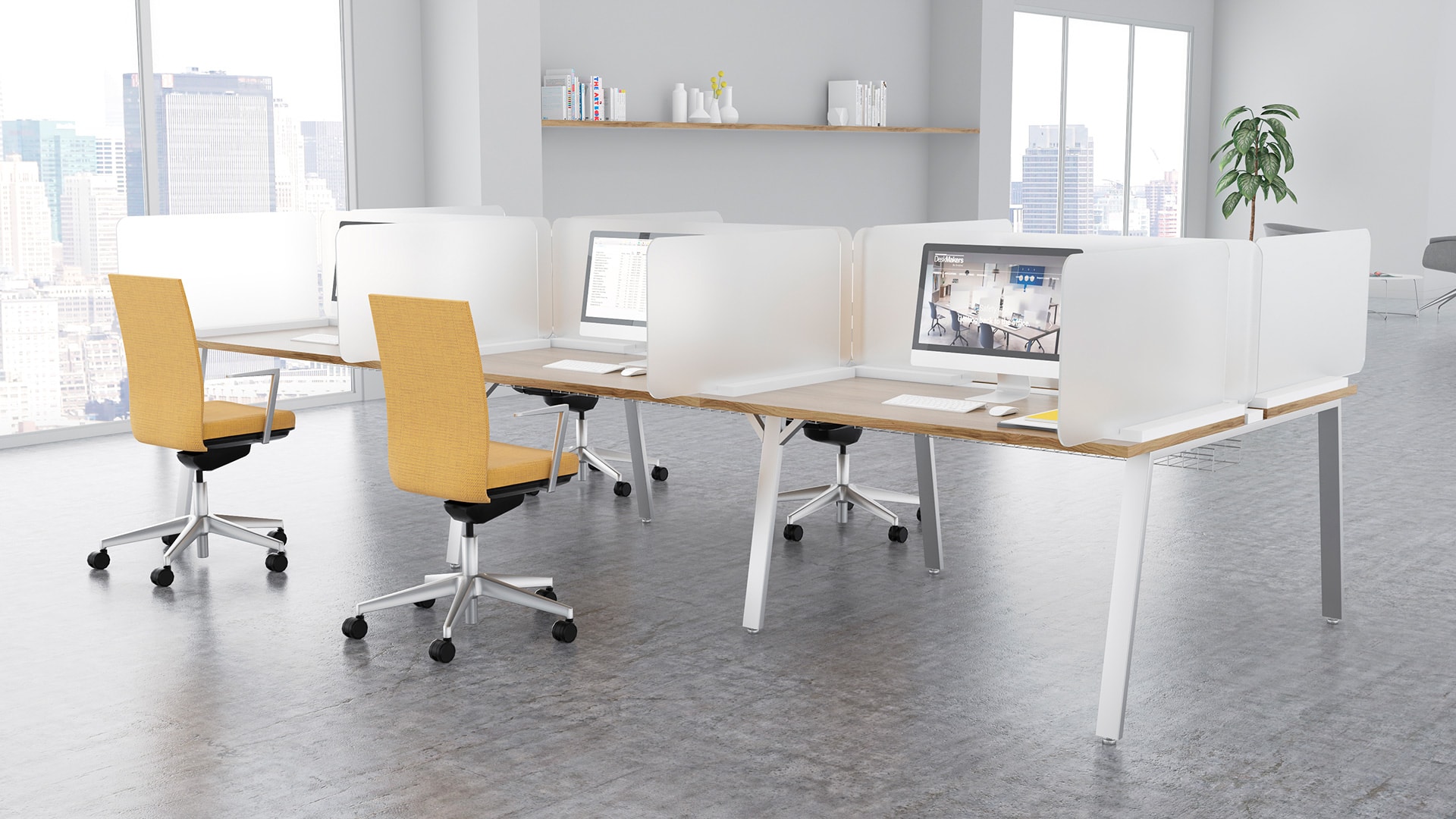 Catalina Collection and Sheilds
DeskMakers proactively designed dividers for businesses that already have TeamWorx furniture as well as a new collection of lockers and cubbies called Catalina for businesses that bringing employees back to the office.
DeskMakers: Convergence Refresh
The Convergence collection was recently refreshed to also incorporate height adjustable desks, angled legs, additional configurations, and overall it looks more modern.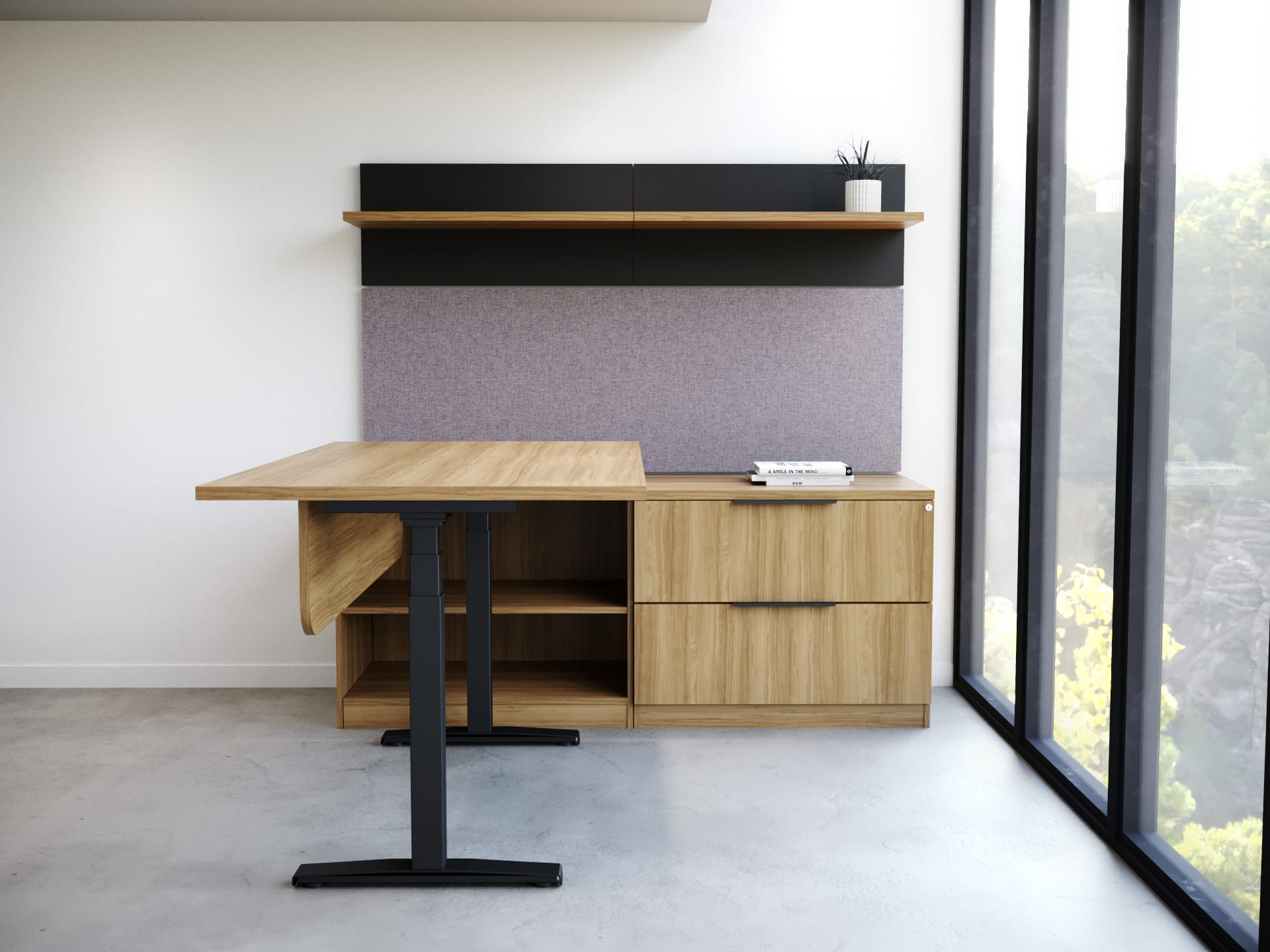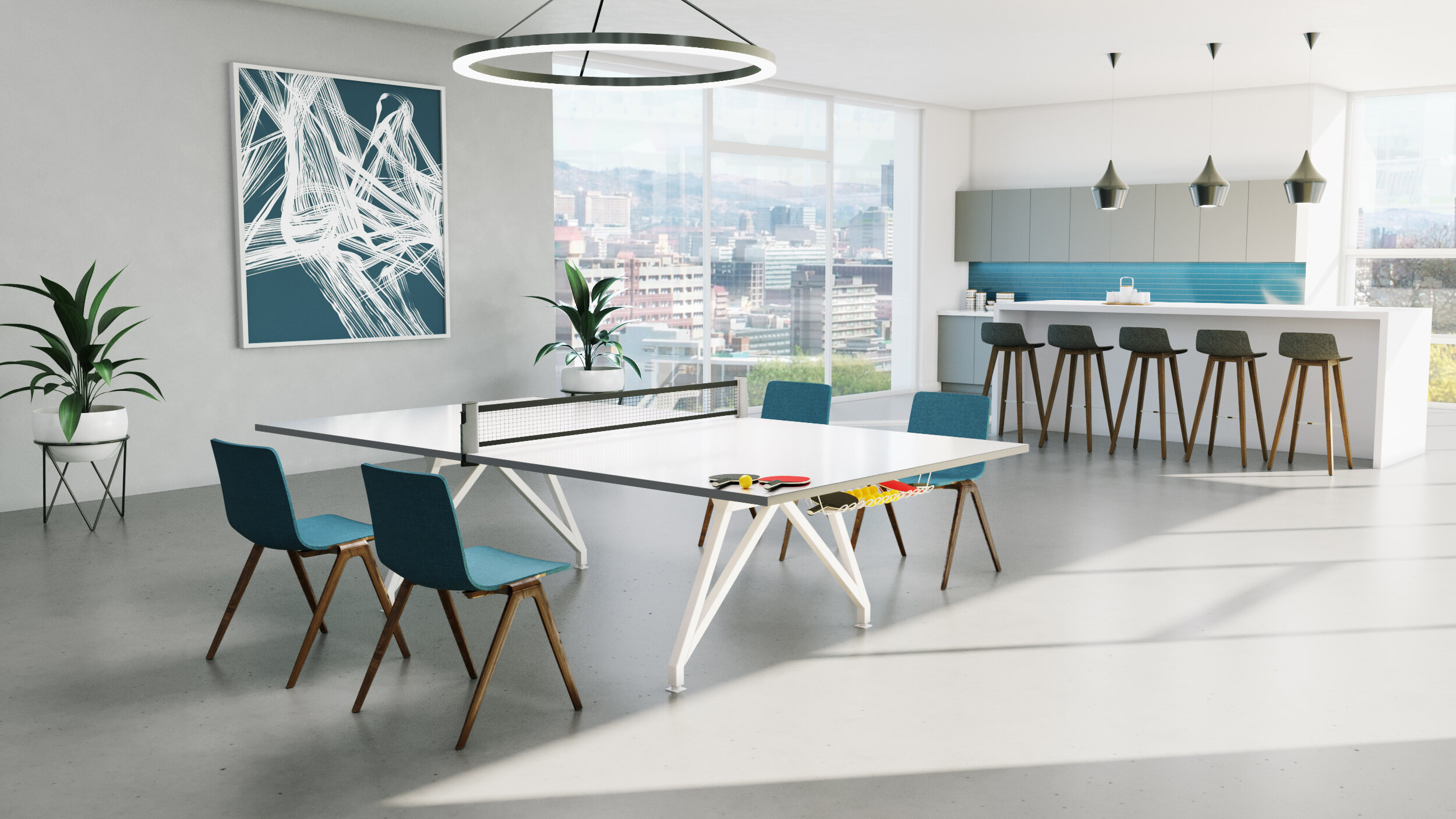 Also sometime in February of 2020, DeskMakers acquired Scale 1:1 which has beautiful multi-use tables, media tables, workstations, marker boards, and space dividers giving designers more design flexibility.
Does DeskMakers offer open plan office furniture?
Yes, DeskMakers offers both benching systems and open plan workstations. TeamWorx has so many components that it can easily fit in a home office or be specified for open plan offices at a company's headquarters. It was designed for employee productivity while minimizing floor space. Hover and Hover lite are open plan workstations that incorporate height adjustable desks and lastly there is Synapse which is a cost-effective benching system.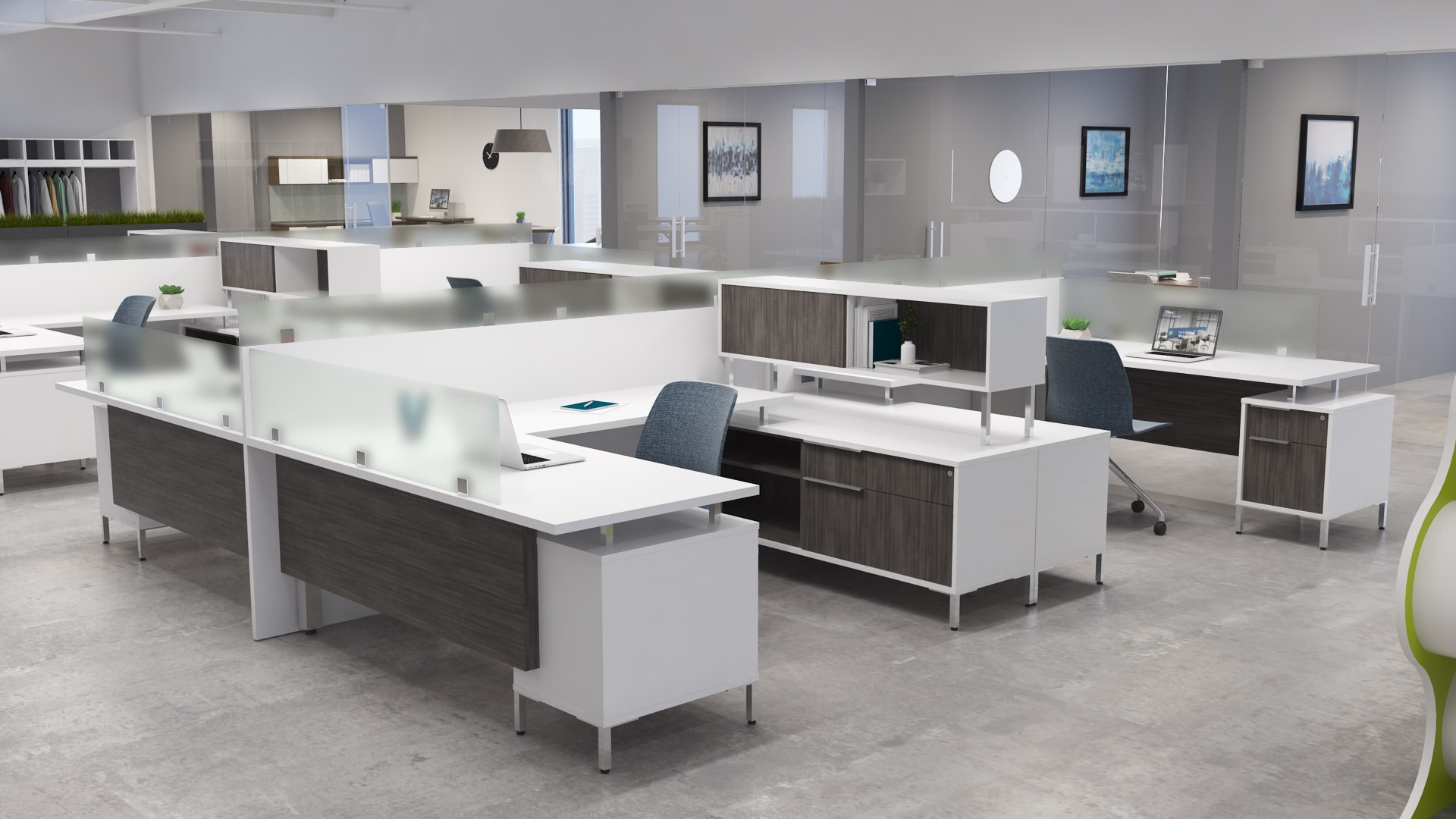 What is our favorite DeskMakers collection?
We like all of DeskMakers products but here are our favorite:
For customers looking for a laminate reception station, Overture is the first collection that we show. Elegant and with so many color, size, and configuration options, this collection is a real winner.
If a customer is looking for a conference table, then the Malibu collection is also our favorite because it is relatively well priced and it is offered with good options on its power module to integrate AV connections.
TeamWorx and Ascend offer great configurations for modern private offices, multiple laminate colors, and sizes for your design needs.
Teamworx along with Staks by OFS are our favorite collections for workstations in an open plan system.
Does DeskMakers have home office furniture?
TeamWorx by DeskMakers has so many components and with so many sizes that it is possible to use this collection to furnish a home office. What's great about it is that you can also add storage units such as double lateral files and vertical cabinets that will match both in style and color.
Is DeskMakers Office Furniture For You?
DeskMakers is our ultimate source for laminate office furniture. They are local, have great collections, and well priced. We can furnish a small home office all the way to a corporate headquarter's office since they have furniture for private offices, open plan workstations, conference tables, and storage units to name a few.
Another great thing about DeskMakers is that they have a quick ship program for some of their popular products including desks, conference tables, reception stations, and storage units.
DeskMakers QuickShip program is currently on hold because of our current COVID-19 situation which has affected every industry that relies on a supply chain.
DeskMakers is a leading manufacturer of laminate office furniture. Visit our showroom to see some of their products on display and let's have a conversation if this product is the right fit for your office.